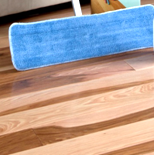 About the product
Arboritec Reusable Microfiber Cleaning Pad is designed to penetrate microscopic particles of dirt and grease on a surface of wood floors. Microfiber helps grab particles of dirt into its dense internal structure. Pads may also be used dry to remove dirt and such household allergens as dander to dust mites. Use dampened with Arboritec Wood Floor Cleaner for effective, non-toxic cleaning. 
Our microfiber cleaning pads are an environmentally responsible approach for maintaining the beauty of your flooring investment. Machine washable and designed to last.
To extend the life of microfiber pads, it is recommended that you do not use dryer sheets when drying.