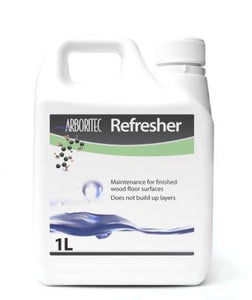 About the product
Professional, ready-to-use, modern maintenance solution designed by Arboritec experts to maintain the beauty and shine of your hardwood, luxury vinyl, laminate, parquet, bamboo, or cork floors. Arboritec Refresher has been crafted to provide the ultimate in wood floor care.
Features
Adds shine and luster to all polyurethane finished wood floors
Could also be used on LVT, VCT, laminate, vinyl and linoleum floors
Rejuvenates the floor from visual signs of wear and tear
Dissolves previous coats with each new application without adding build up
Recommended maintenance after every 5th cleaning with Arboritec Cleaner
Non-toxic and safe for use in households with children and pets
Application
Vacuum, or dust mop the floor to remove all dirt and loose particles. Clean with Arboritec Cleaner following label instructions. Pour Arboritec Refresher directly onto the floor. Disperse with a clean microfiber mop. Do not dilute the Refresher. Let dry. The floor is ready to use after 30-60 minutes.
If you own a flooring store or cleaning service and would like to discuss large quantity discounts, please
email us
directly.